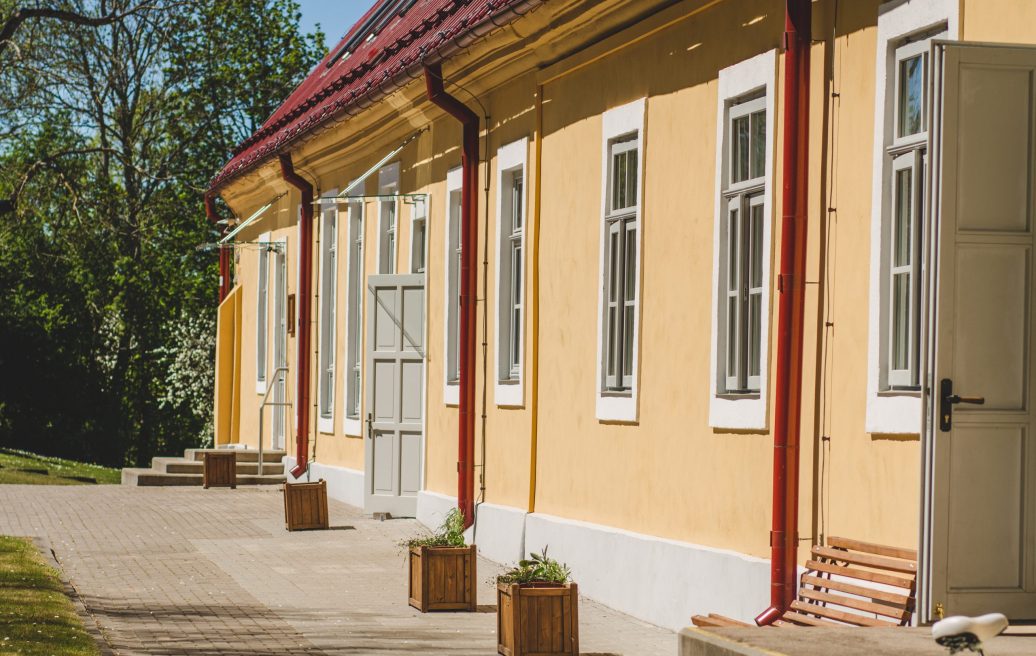 Description
Vērgale Manor Complex is an architectural monument of local significance and one the most unique Empire-style manor complexes in Kurzeme. Written sources mentioning Vērgale under the name Virgenare date back to 4 April 1253, relating to the division of Kurzeme territories between Bishop Heinrich of Courland and the Teutonic Knights. Built as a hunting lodge for Baron von Behr of Ugāle in 1837, the manor palace is a two-storey elongated structure with a high plinth, hipped roof, and two four-column porticoes with pediments inscribed with the arms of the Behr family and decorative rosettes.
A beautiful park encloses the manor. Today, the manor complex is used in a variety of ways: the palace houses Vērgale Primary School, the barn houses the town's culture centre, the steward's apartment hosts the territory's council, and the servant's quarters are home to the library, as well as boys' home economics and technology classrooms. The Vērgale Museum is situated in the manor's former distillery. The building also preserves one of the largest mantel chimneys in Kurzeme.
The museum offers local history lessons and guided tours of the manor complex.
Read more
Close
Improvements made within the project
The project renovated the façade of the Vērgale Culture Centre, the Council House and the Museum, developed the landscape, improved accessibility for people with reduced mobility, and renovated the rainwater drainage system.
Investments – EUR 299,673.35
Of which:
ERDF funding – EUR 152,285.82
state budget grant – EUR 21,464.82
municipal funding – EUR 116,029.82
other public financing – 9892.89
The project was implemented by Pāvilosta Municipality Local Government.
Address
Museum "Dīķenieki", Vērgale
Working time
1.09. – 31.05.
Monday – Friday 10:00 – 13:00
Saturday, Sunday – closed
1.06. – 30.08.
Wednesday – Sunday 10:00-13:00
Monday, Tuesday – closed
Admission fee
EUR 1.50 – for students and pensioners
EUR 1.00 – for children
Free admission for preschool children
Getting there
By private transport or bicycle, on foot. Public transport on the routes Liepāja-Pāvilosta or Liepāja-Ventspils, through Vērgale.
Good to know
You can book a guide for the whole Vērgale Manor complex – the museum manager Mirdza Sīpola +371 29338335
Contacts
Vērgale Parish Museum, local guide +371 29338335