The Šlokenbeka Manor Ensemble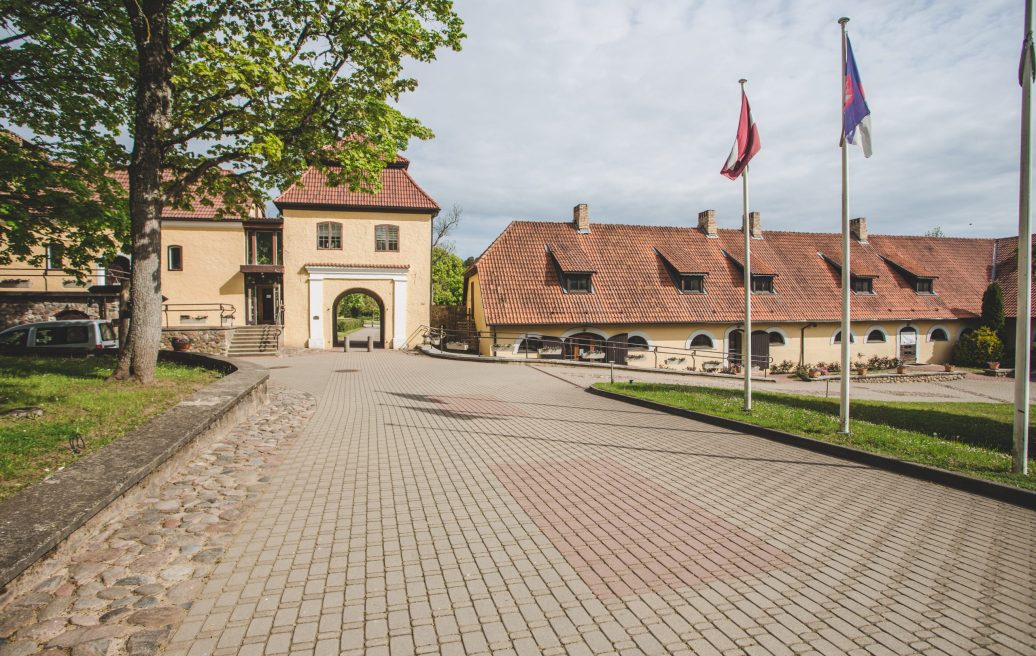 Description
An archaeological monument of national significance, the Šlokenbeka Manor Ensemble is one of the rare examples of a fortified medieval manor in the Baltics and the only one in Latvia to have survived to this day.
The manor dates back to the end of the 15th century, presumed to be built in 1484. From its beginnings until the end of the 17th century, the manor served as a fortified defensive structure, and from the late 17th century until the turn of the 19th and 20th centuries, it was an active economic centre. By the end of the 18th century, Šlokenbeka Manor had become one of the most economically developed and profitable manors – its vodka brewery was the largest in the Tukums parish, and it owned four taverns. In the mid-19th century, the capacity of the distillery increased fivefold, and much of the production was exported.
At the dawn of the 20th century, the manor was nationalised and divided into new farms as a result of the agrarian reform. It suffered heavily during the early 20th century because the building lacked a proper landlord to look after it, and several of the manor's historical outbuildings perished at this time.
After WWII, the manor was owned by several institutions and organisations related to the road-building sector. In 2006, it was taken over by the council of Smārde rural territory, which later became part of Engure, and now – Tukums municipality.
Read more
Close
Improvements made within the project
Paving is laid in the courtyard of the manor. The tiled roof of the manor house is restored. Studio spaces for artists have been created in the attic. Several new services have been established: a series of exhibitions, open artist workshops in the attic of Šlokenbeka Manor, as well as thematic events in the courtyard.
Investments – EUR 215,642.84
Of which:
ERDF funding – EUR 183,296.41
state budget grant – EUR 8,086.61
municipal funding – EUR 24,259.82
The project was implemented by Engure Municipality Council.
Address
"Šlokenbeka Manor Ensemble", Milzkalne, Smārde Parish, Tukums Municipality
Working time
The manor is open to the public at any time 24/7.
Opening hours of the Road Museum:
May – October
Tuesday – Friday 9:00 -16:00
Saturday, Sunday 10:00 – 17:00
Monday – closed
Getting there
By car – from Riga, take the A10 (E22) motorway to the turn to Smārde (sign Šlokenbeka 14), then continue 14 km to Šlokenbeka Manor, a total distance of 64 km which equals about 1 hour. By public transport – take the train Rīga–Tukums, and get off at Milzkalne station, the manor is a 10-minute walking distance from the station.
Good to know
Guided tours available by prior arrangement +371 2990414.