The Pūt, vējiņi! Concert Garden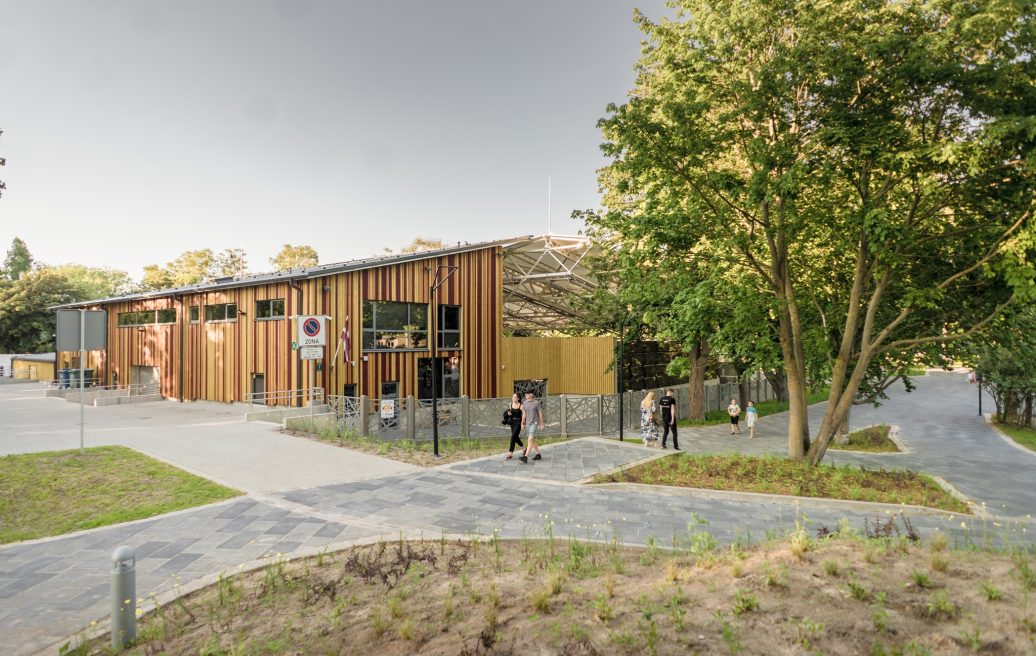 Description
In 1964, a new stage designed by Pēteris Milzarājs was built in Liepāja's Jūrmala Park, which now bears the legendary name Pūt, vējiņi!. This and Jūrmala's Dzintari Concert Hall were the only two concert halls that had a roof at the time.
The new concert hall quickly became a popular venue for summer festivals, concerts and various cultural events. In the opening year, Pūt, vējiņi! hosted its first major popular music festival, bringing together performers from all three Baltic republics. In 1967, this iconic festival was named Liepājas dzintars, a name that has become part of Latvian music history.
In the 1970s and 1980s, the Pūt, vējiņi! stage and the festival Liepājas dzintars had become inseparable. People saw it as both an honour and a necessity to attend the event. Soon, it transformed from a local competition into a mirror of Latvian stage music, bringing recognition and fame to young talents far beyond the borders of Latvia. Artists, representatives of informal movements, musicians and listeners from all over the country flocked to the Pūt, vējiņi! stage, enriching the festival with a spirit of freedom and a creative community that people yearned for under Soviet rule. Among them were local musicians Imants Kalniņš, Raimonds Pauls Mārtiņš Brauns, Zigmars Liepiņš Aivars Hermanis, Igo, Jānis Lūsēns, Uldis Marhilēvičs, Žoržs Siksna and the bands Līvi, Zodiaks, Sīpoli, Odis, bet bet, Brainstorm, The Satellites, Time After Time, Zig Zag, Hospitāļu iela, to name a few.
Since the restoration of Latvia's independence, Pūt, vējiņi! has hosted nearly all Latvian popular music artists, as well many such great names as Jan Gilan, Slade, Suzi Quatro, Mango Jerry, Kim Wilde, London Gospel Choirs, etc. It also hosted local open-air dances and performances, concerts and humour shows, however, the ravages of time have worn on the building as it patiently waited for its rebirth.
Reopened in May 2022, the renovated concert garden Pūt, vējiņi! is an exclusive, modern cultural space in Liepāja's Jūrmala Park, nestled between the city's historical centre and the sea, widely and conveniently accessible to the city's residents and visitors alike.
It is a foundational stone of Liepāja's intangible cultural heritage and an integral part of Latvian culture and music history.
The Pūt, vējiņi! concert garden is both a modern cultural venue in Liepāja, a state of mind and a temple of music and freedom. It is a symbol of the new age, where culture played an important role in the budding Latvian nation's self-confidence. Pūt, vējiņi! always has and forever will be a symbol of courage.
The long-awaited reconstruction of the concert garden was aimed at reviving the more than century-old tradition of hosting summer festivals and concerts in Liepāja, Latvia's capital of music. This time, on a grander scale and with a modern edge.
From mid-May, the road to Pūt, vējiņi! concert garden leads through the Latvian Musicians' Hall of Fame, where a total of 64 honour plaques are displayed. Of these, 42 are bronze casts of musicians' palms, 15 are devoted to current and former bands, and 7 are star plaques for musicians who had passed away when the Hall of Fame was established. Opposite the concert garden stands the Ghost Tree: an interesting environmental object and a meeting point where you can sit down at any time of the day and listen to the greatest hits of the legendary Latvian rock band Līvi at the touch of a button.
Read more
Close
Improvements made within the project
As part of the Pūt, vējiņi! reconstruction project, a new venue for concerts, performances and other public events was created with a total of 1400 seats, preserving the historical location, functionality, and technical concept of the object, and the surrounding territory was improved.
Under the supervision of the project architect Mikus Lejnieks, the concert garden received a larger wooden stage with acoustic wooden panel walls, a higher roof, and a new two-storey building for changing rooms, as well as the concert garden's accessibility was improved, integrating into the overall area of Jūrmala Park. The conditions for performing artists were improved as well, in line with modern requirements and standards. The interior was designed to fit in beautifully with the interior and garden area design developed by architect Agris Padēlis Līns.
Investments – EUR 2,442,302.45
Of which:
ERDF funding – EUR 800,000
state budget grant – EUR 35,294.12
municipal funding – EUR 1,607,008.33
The project was implemented by Liepāja City Local Government in cooperation with LLC Liepāja Latvian Society House.
Read more
Close
Address
Miķeļa Valtera street 7, Liepāja
Admission fee
The admission fee depends on the event.
Getting there
The concert garden is located in Liepāja Jūrmala Park, accessible by car, bicycle or on foot. It's located at a five-minute walking distance from the closest bus stop on Uliha Street.