The Pavilion – Rotunda at the Tempļakalns Park in Alūksne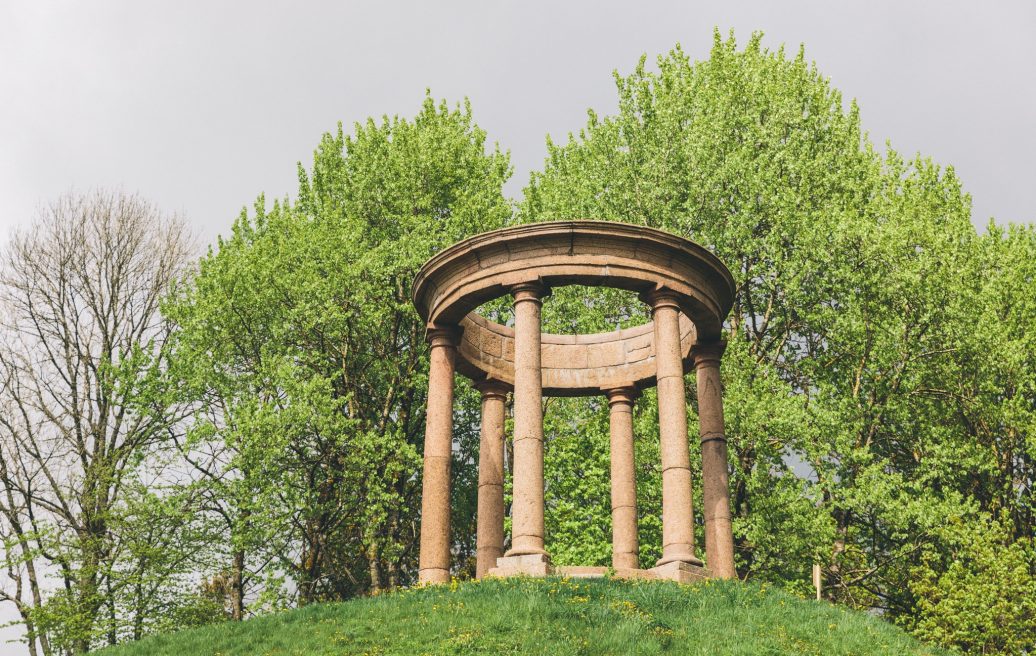 Description
Built in 1807, the Classicism style Pavilion–Rotunda has survived to this day in its original form. It was erected at the request of Baron von Vietinghoff, the owner of Alūksne Castle, to commemorate the centenary of the Great Northern War. Dedicated to the memory of the Russian Field Marshal B. Sheremetev and the Swedish army captain Wulf, it is also known as the Temple of Glory. This architectural monument of national significance stands atop the Temple Hillfort. At 216.7 m above sea level, Tempļakalns (Temple Hill) is the oldest Settlement in the Alūksne region. A legend says that during the Northern War, warriors built the hill with their hats to gain a vantage point for firing upon Alūksne Lake Castle.
The granite pavilion has a free-standing, circular volume, comprising of a stereobate, 6 free-standing Doric order columns and an entablature.
Currently, the area of the Pavilion-Rotunda is a great destination for tourists and leisure travellers. The hilltop offers a luxurious view of Lake Alūksne and Pilssala Island. You can find rest areas at the foot of the hill.
Improvements made within the project
The project renovated the Pavilion–Rotunda, developed the surrounding area, built stairs and an access path, and installed decorative lighting of the object and the architectural elements.
Investments – EUR 223,537.58
Of which:
ERDF funding – EUR 72,086.94
state budget grant – EUR 3,816.37
municipal funding – EUR 147,634.27
The project was implemented by Alūksne Municipality Local Government. 
Address
Tempļakalns Park, Alūksne
Working time
The object is available 24 hours
Getting there
A 20-minute walk on foot from the city centre, a 5-minute walk from the parking lot on Miera Street, by bicycle.
Contacts
+371 29130280
+371 25442335