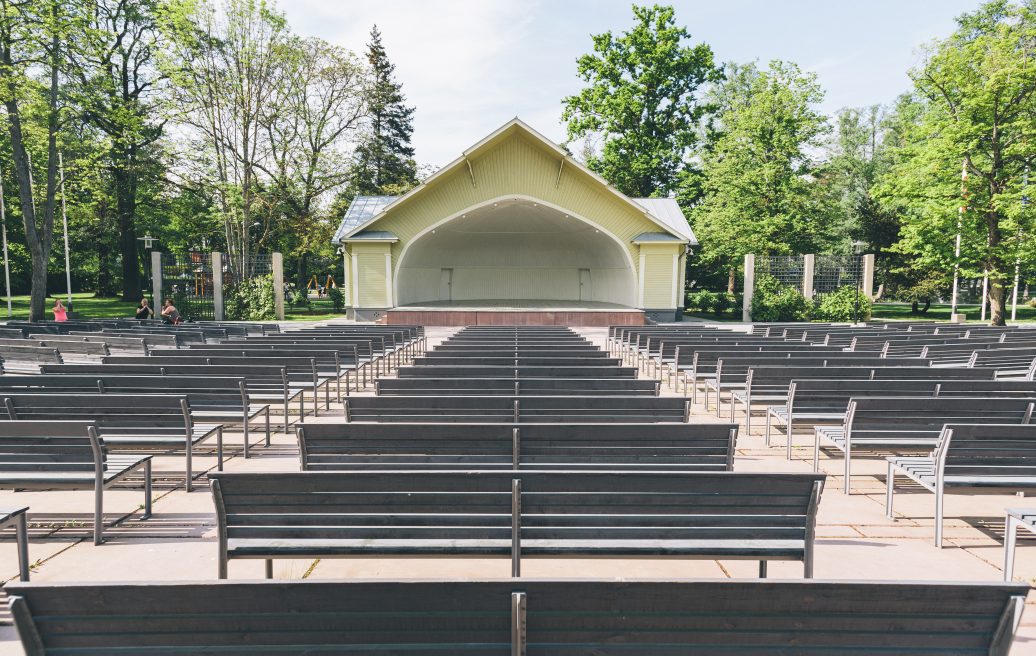 Description
The Melluži Stage is one of the two surviving conch-shaped acoustic wooden stages in the entire Baltic region incorporating Art Deco elements.
Melluži town's original residential quarter which housed the local fishermen and farmers' abodes is located at Upes Street, while plots for summer houses near the resort house in the dunes and north of Kāpu Street began to be allocated in 1836. The town's layout shows a clear direction towards the original centre, the square where the inn, resort house, market, blacksmith's workshop and shops used to be located. In addition to that, a park with a small pavilion was created in the 1880s for musical performances and concerts.
In 1927, a new open-air stage was built in Melluži. Up until the 1920s and 1930s, it hosted mostly popular music events, due to the stage being too small to accommodate a symphony orchestra. In 1933, the town's local government "reconstructed" the stage by sawing it through the middle and making it deeper, however, this did not have any positive effect on the sound. In 1938, a new stage was built, and the territory of Melluži Park was improved. It actively hosted concerts until 1940, but following the devastation of war, the stage was restored in the 1960s only.
Read more
Close
Improvements made within the project
In 2019, the Melluži Stage was restored to its historical appearance and the Milk Pavilion was rebuilt, however, the historical Milk Pavilion could not be saved due to the building's state of disrepair.
The Melluži Stage was equipped with new and bright rooms, a backstage area, and dressing rooms for artists. The original sloping wall at the back of the building was restored, 625 seats were installed in the audience seating area, and the concert garden's historical vine walls were restored in line with the original design.
The Melluži Stage area was improved with paths and lighting, bike racks and bins.
Investments – EUR 2,221,774.69
Of which:
ERDF funding – EUR 1,365,801.44
state budget grant – EUR 117,556.94
municipal funding – EUR 738,416.31
The project was implemented by Jūrmala City Council.
Read more
Close
Address
Mellužu Prosspect 6, Jūrmala
Getting there
On foot or by personal transport, the town's public transport route No 4 Bulduri–Slokas stacija and No 5 Bulduri–Ķemeru stacija, passenger trains on routes Rīga–Tukums, Ķemeri, Sloka, minibuses No 7020 Rīga–Jaunķemeri and No 7023 Rīga–Sloka, intercity passenger transport.
Contacts
Jūrmala Culture Centre
Džoanna Kota
+371 67764446