The Liepāja Holy Trinity Cathedral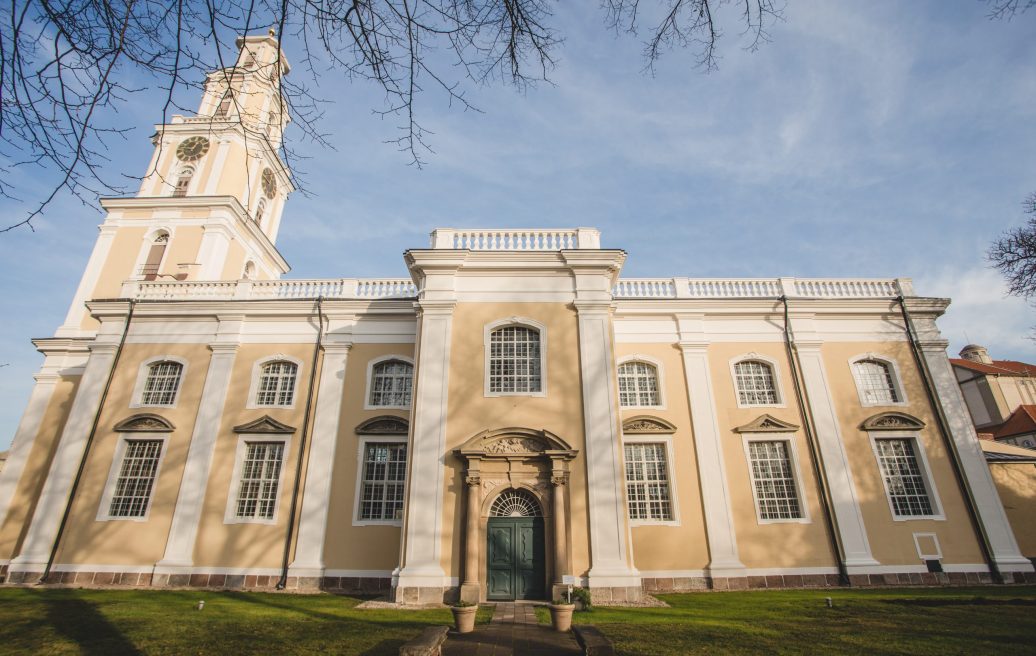 Description
The foundation stone of Liepāja Holy Trinity Cathedral was laid on 19 July 1742. The cathedral's project was designed by Johann Christoph Dorn from Königsberg, while Johann Michael Fröhlich, Dorn's assistant, supervised its construction.
On 5 December 1758, the cathedral was consecrated. It was not finished yet: the tower lacked two upper floors and the interior was short of painting and gilding – except for the pulpit.
The first major reconstruction of the building took place in 1865-1866. The tower was given its two upper storeys, the layout of the church was changed, some side galleries were removed, the sacristy behind the altar was removed and a new sacristy added, heating was installed, and the façade was plastered with cement mortar.
The organ of Liepāja Holy Trinity Cathedral is one of the world's most interesting organs: its size, history, visual beauty and mesmerizing sound have captivated organ builders, masters and audiences for centuries.
In its beginnings, the Liepāja Holy Trinity Cathedral was home to the German Evangelical Lutheran Church congregation. The German congregation was active here until World War II.
‍Following WWII, a Latvian congregation was founded, which persevered throughout the Soviet occupation despite difficulties and repression.
‍
‍Currently, Liepāja Holy Trinity Cathedral hosts both Latvian and German congregations.
Since 2007, it has become the cathedral of the Diocese of Liepāja.
Between 2012 and 2014, the cathedral's roof was renovated, and its foundations were reinforced. From 2018 to 2020, the façade of Liepāja Holy Trinity Cathedral was renovated.
Read more
Close
Improvements made within the project
The project renovated the façade and tower of the Liepāja Holy Trinity Cathedral and restored its windows and sandstone details: the façade of the cathedral was renovated, its tower was reinforced, windows, doors, and sandstone details were restored, a lightning protection system was installed, the tower cross and clock faces were restored, waterproofing of the foundation and a rainwater harvesting system were built. The project also improved the existing tourist services and developed new ones: it now offers an exhibition in the cathedral tower on the historic events and personalities of Liepāja Holy Trinity Cathedral through the ages, and two services were improved: providing appropriate conditions for organ concerts throughout the year and the possibility to host changing exhibitions.
Investments – EUR 1,176,470.59
Of which:
ERDF funding – EUR 1,000,000
Church congregation funds – EUR 176,470.59
The project was implemented by the Liepāja Holy Trinity Evangelical Lutheran congregation.
Working time
01.11.-30.04.
Closed on Mondays
Tuesday – Saturday 12.00 – 13.00
Open during the services on Sundays
01.05.-30.10.
Closed on Monday
Tuesday – Saturday 10.00 –18.00
Sunday 12.00 – 14.00
Admission fee
Church attendance for individual visitors: voluntary donation.
Guided tour for groups
EUR 1.00 from the person;
EUR 0.50 for pupils
Tower visit and city panorama for adults:
EUR 3.00
EUR 1.00 for students
EUR 0.70 for pupils
EUR 1.00 for pensioners
children up to 7 years of age and persons with disabilities – free of charge
Organ presentations for groups of up to 20 people – EUR 40. In case of larger groups, a surcharge of EUR 2 is charged for each additional visitor.
Getting there
The object is located in the heart of Liepāja city. Access by bus, tram, taxi, private car, bicycle, motorbike, or on foot.
Good to know
The Cathedral's exterior is open to visits at any time, and inside visits are available during opening hours only.
Tower visit and city panorama for groups and organ presentations by prior arrangement.
The tower is not suitable for visitors with reduced mobility (it has no lift).
Services are on Sundays at 10.00 and Thursdays at 18.00.