The Jēgerleja Open-Air Stage in Mērsrags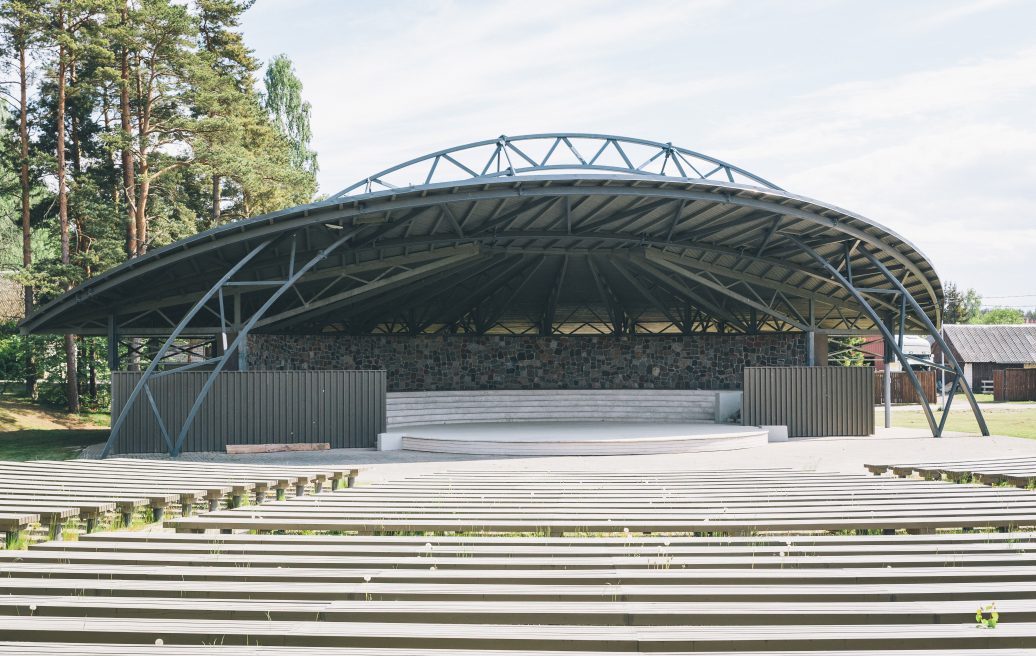 Description
The renovated Jēgerleja Open-Air Stage is one of the most important places in Mērsrags municipality safeguarding local traditions. It is a venue for a variety of celebrations, including the Summer Solstice, Fishermen's Festival, concerts, open-air cinema screenings, sports, dance and other events.
The renovated stage ensures the preservation and development of the Livonian cultural space and intangible heritage, as well as the creation of new services: a new Baltic Sea town and municipality twinning festival named Sea Songs.
Once, the site used was named Mill Hill (Dzirnavkalns), however, all the mills were destroyed during WWI. In 1920, the Dirmas farmstead near Dzirnavkalns came into the hand of Vilis and Ieva Jēgeri, and their surname now lives on in the name Jēgerleja.
Improvements made within the project
The roof of the stage is rebuilt in a modern arch. The stage floor is renovated. Old log benches for the audience are replaced with new wooden benches, providing 1500 seats. The territory surrounding the stage was developed and the pavement was restored.
A new Baltic Sea Region town and municipality twinning festival Sea Songs was created and will be held at the renovated Mērsrags open-air stage.
Investments – EUR 214,930.86
Of which:
ERDF funding – EUR 177,443.99
state budget grant – EUR 9,371.72
municipal funding – EUR 28,115.15 
The project was implemented by Mērsrags Municipality Local Government.
Address
Jēgerleja Open-Air Stage, Lielā Street 126, Mērsrags
Working time
The Open-Air Stage is open to the public at any time 24/7
Getting there
On foot and by private transport, public transport running to Mērsrags.