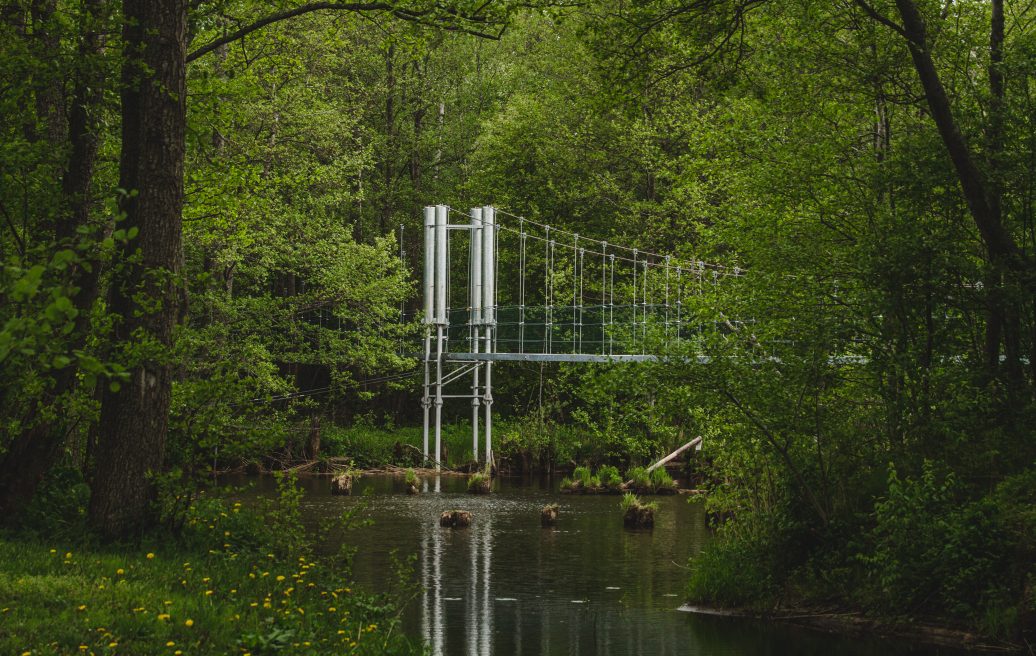 Description
Historically inhabited by Livonians (Līvõd Rānda in Livonian), the village of Lielirbe (Īre in Livonian) is home to the only cable bridge in North Kurzeme: the pedestrian bridge over the Irbe River.
The territory of Lielirbe is located next to Ovīši Nature Reserve and several culturally and historically significant tourist attractions, such as the Ovīši Lighthouse, Miķeļbāka Lighthouse, and the Ventspils International Radio Astronomy Centre. The bridge is the only river crossing in the village of Lielirbe. The renovated bridge establishes a link between the historic Livonian Coast and Lielirbe village and allows the 13th EuroVelo cycle route to pass through the Livonian Coast villages and important natural heritage sites. The bridge also facilitates pedestrian and cyclist traffic along the historical nature trail Livonian Narrow Gauge Railway Trail, interconnecting natural and cultural heritage sites in Tārgale rural territory.
Improvements made within the project
The 112 m long and 1.2 m wide foot bridge is rebuilt. The bridge has a cable structure with two shore pylon supports. The surface is made of galvanised grating, the railings are made of galvanised cable with additional fencing for safety.
Investments – EUR 168,069
Of which:
ERDF funding – EUR 112,693.72
state budget grant – EUR 4971.78
municipal funding – EUR 50,403.50
The project was implemented by Ventspils Municipality Local Government.
Address
Lielirbe, Tārgale Parish, Ventspils Municipality
Getting there
By private transport or on foot