Northern Tower of Ērģeme Medieval Castle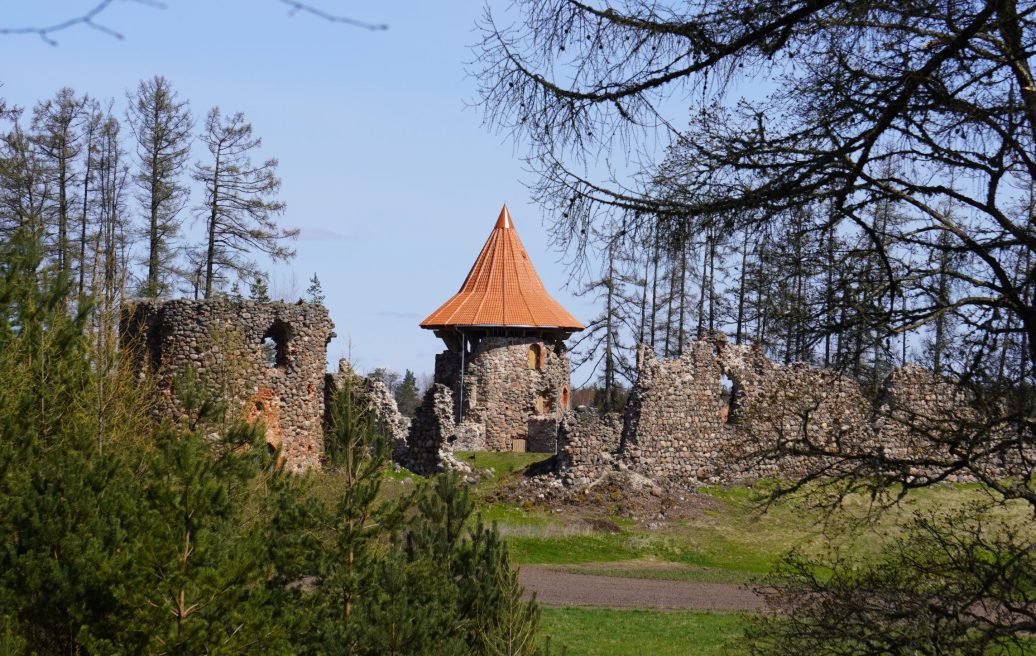 Description
Located in Ērģeme rural territory, Valka municipality, the Ērģeme Medieval Castle stands on the right bank of Ērģeme, a tributary of Seda River, next to the Valka–Rūjiena road.
Mentioned in written sources as early as May 1323, Ērģeme Castle of the Livonian Order was built of stone, brick and lime mortar. It is a conventual stronghold with a square-like plan and two large fortification towers, surrounded by a water-filled moat. A drawbridge connected the castle-front to its central part.
Ērģeme Castle was built as an auxiliary castle for the Cēsis Commandry of the Livonian Order. The Order's masters used it as a storehouse, a support point, and a place of refuge. The castle's towers were built later, in the 15th century.
In 1575, Ērģeme village was captured by Magnus, King of Livonia, who surrendered the castle to the Poles in 1578. In 1621, Ērģeme was conquered by King Gustav Adolf of Sweden. In 1625, he leased it to Major General de la Barre whose family owned the castle until 1795. In 1670, a fire broke out in the castle, and it is presumed that the castle was no longer inhabited.
On 5 July 1702, after the Battle of Omuļi (Homeln) of the Great Northern War (1700-1721), the castle was blown up by Swedish soldiers.
Until 1853, the castle served as a local granary. Later, the castle ruins became a cultural hotspot and hosted various events.
Compared to other similar structures in Latvia, the Ērģeme Castle ruins are well preserved.
Read more
Close
Improvements made within the project
The project restored and renovated Ērģeme Castle's North Tower. Extensive work has restored the tower's roof structure and replaced the tile roofing, rebuilt the main entrance door and window hatches, renewed flooring on the tower's 4th floor, as well as installed lightning protection.
Investments – EUR 224,225.82
Of which:
ERDF funding – EUR 100,000
state budget grant – EUR 5,294.11
municipal funding – EUR 118,931.71
The project was implemented by Valka Municipality Council.
Address
Vītolu Street 6, Ērģeme, Ērģeme parish LV-4711
Getting there
On foot or by private transport.
Public transport: bus Valka – Ērģeme – Omuļi School: stop Ērģeme Castle ruins. Intercity bus Valka – Rūjiena, Valka – Turna – Ēvele Ķemere.
Good to know
Please contact the Valka Municipality Tourism and Information Office to arrange a guided tour of the castle.
Contacts
Valka Municipality Tourism and Information Office
Rīgas Street 22, Valka, LV-4701
+371 64725522; +371 26496945
www.visit.valka.lv, www.visitvalgavalka.com
Facebook: Valkas TIB ; Valka/Valga