Mausoleum of the Vietinghoff Family in the Alūksne Manor Park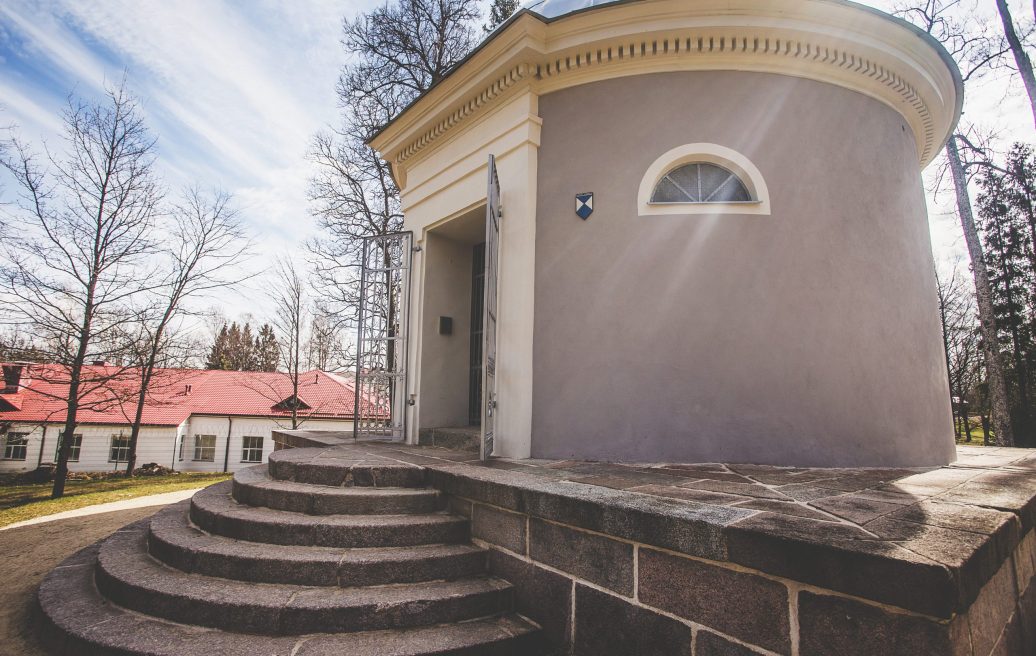 Description
Dating back to 1831, the late-Empire style mausoleum of the von Vietinghoff family was designed by the architect J. V. Krauze. Its central element is the cylinder-shaped chapel, with its interior dome symbolising the sky. Inside the mausoleum, four diagonally arranged semi-circular windows allow light in, illuminating the inscriptions on the marble memorial plaques that used to be on the walls. Under the floor, in walled cellars lie the tombs of the von Vietinghoff family. The remains of the esteemed family's deceased were brought here from the Cemetery Peninsula and even from Rēvele. A moat surrounds the mausoleum's consecrated grounds. The closest relatives of the von Vietinghoff family were laid to rest in the mausoleum, the more distant ones – next to it.
Improvements made within the project
The project restored the mausoleum's roof structure and gave it tin roofing, restored the façade of the building, the interior, entrance and window grilles, and developed the surrounding area. The mausoleum now offers an interactive projection based on the ideals held high by the von Vietinghoff family – virtue and education in virtue. The image of the mausoleum's interior is the visual embodiment of Diderot's ideal: the four semi-circular windows are the embodiment of a source of light in a darkened room. It is light that breaks through, illuminating, brightening, or, according to Diderot, educating and making life more attractive. The human spirit is immortal if remembered and honoured.
Investments – EUR 120,602.63
Of which:
ERDF funding – EUR 54,526.14
state budget grant – EUR 2,886.68
municipal funding – EUR 63,189.81
The project was implemented by Alūksne Municipality Local Government.
Address
Alūksne Manor Park, Pils street 31, Alūksne.
Working time
The mausoleum with its interactive exhibition and talking lantern is open every day, around the clock.
Getting there
15 minutes on foot from Alūksne central bus station, by bicycle.
Contacts
+371 29130280
+371 25442335