Jūrkalne Nature and Recreation Park "Ugunspļava", Open-Air Concert Hall "Vējturu nams"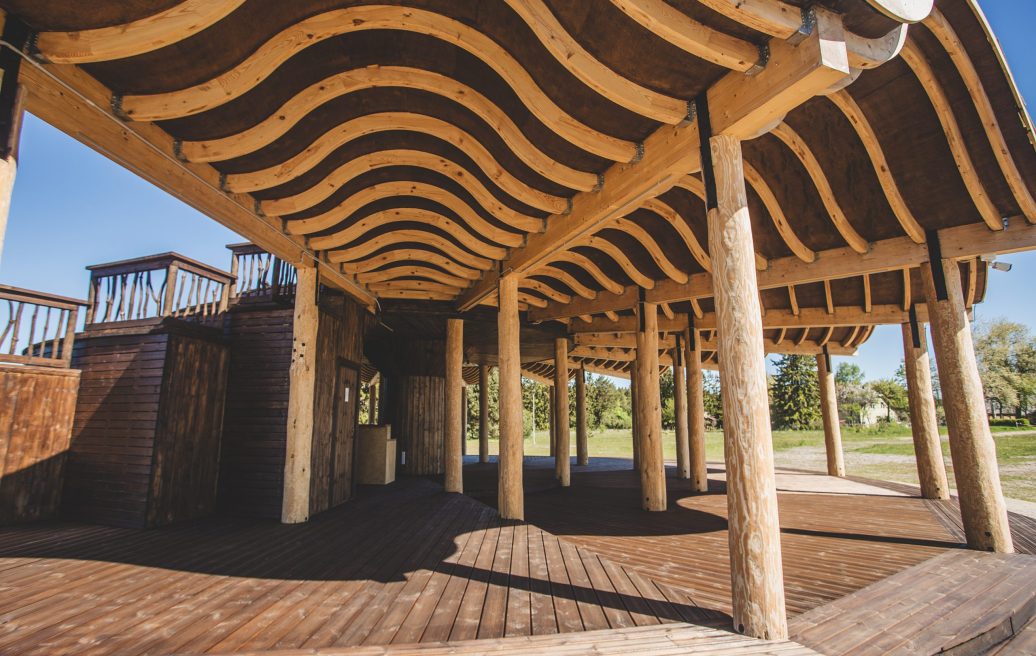 Description
Jūrkalne Nature and Recreation Park has been in active development since 2006 with the initiative of musician and artist Igo and the support of the Ventspils Municipality Local Government. This area hosts annual traditional events – the Jūrkalne tourist season opening and clean-up event, the Summer Solstice, the Herb and Flower Days, and the Apple Ball. The vision for the site is to transform these events from local to national and even international by creating a new cultural and artistic offer: national and international ethnic, folk and spiritual music and art festivals. Jūrkalne Nature and Recreation Park, including the newly created Vējturi House, helps to preserve and promote Suiti traditions.
Improvements made within the project
Jūrkalne Nature and Recreation Park is home to the nature concert hall Vējturi House, a two-storey building with a wood shingle roof, wooden rafters and a wooden-plank façade. A new parking lot with a gravel surface and a footpath with a boarded curb is built, and a wishing well is installed. Electrical lighting is installed for the installations, as well as wireless visitor registration and video surveillance systems.
Investments – EUR 372,291.44
Of which:
ERDF funding – EUR 215,917.30
state budget grant – EUR 9,525.76
municipal funding – EUR 146,848.38
The project was implemented by Ventspils Municipality Local Government.
Address
"Straumes" Jūrkalne, Jūrkalne Parish, Ventspils Municipality
Working time
Open at any time 24/7 (depends on the planned cultural events and other requests).
Admission fee
The admission fee depends on the event. Visits to the open-air stage are free of charge.
Good to know
Before your visit, please check the current programme on the website www.jurkalne.lv and on social networks, or contact Jūrkalne Community House.
Jūrkalne Nature and Recreation Park, including the Vējturi House, can be visited all year round, however, access may be restricted during the high season from May to September, depending on the subject and type of event.
Contacts
Jūrkalne Community House 
+371 26261884