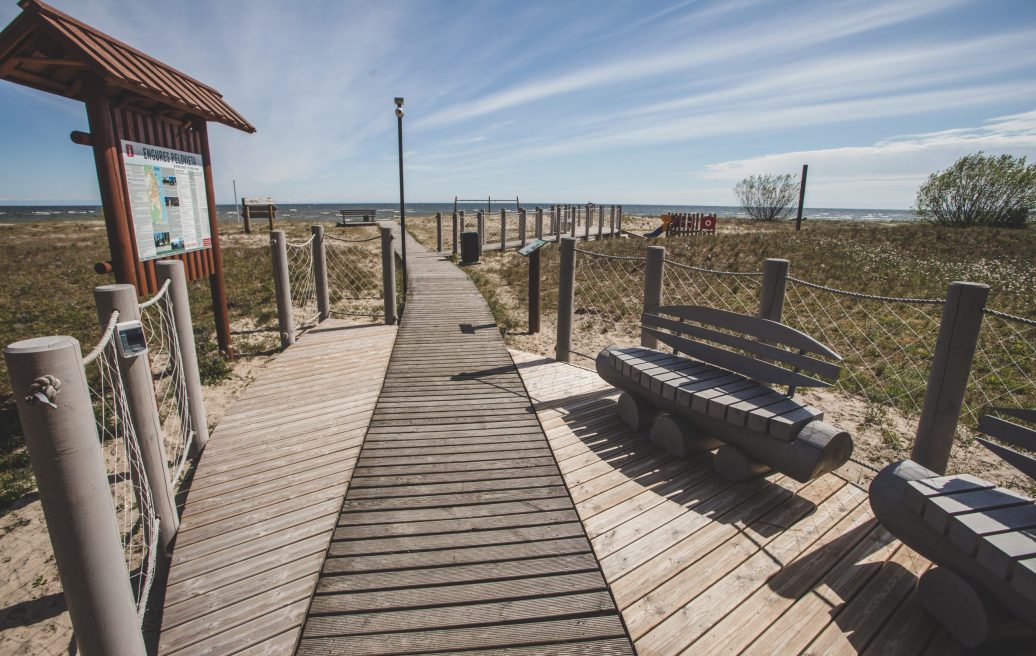 Description
With its unique grey dune, beautiful Engure Beach attracts countless visitors who come to enjoy the scenery and relax on the Latvian coast. The grey dune is one of the rarest types of coastal dune: due to rapid overgrowth with pine trees and bushes, these dunes can be found in limited areas only.
The beach is equipped with changing rooms, benches, footbridges and a playground. Families with children will love the playground, where young visitors have the opportunity to indulge their imagination and roleplay a sailor, standing at the helm. For those who enjoy active recreation and sport, the beach offers an area with two volleyball courts. A pedestrian bridge over the Engurupīte (Vecupe) River connects the two sites.
A public bathroom is located at the entrance to the beach with a place outside to wash your feet after a walk on the sandy coast. The water is safe for drinking, so feel free to replenish your water reserves.
Improvements made within the project
Benches, changing rooms, footbridges, bicycle racks and rubbish bins are placed on the beach. A playground and volleyball courts are created. A toilet is placed at the entrance to the beach. 
Investments – EUR 133,916.73
Of which:
ERDF funding – EUR 76,201.50
state budget grant – EUR 12,115.25
municipal funding – EUR 45,599.98
The project was implemented by Engure Municipality Local Government.
Address
Engure village, Ceriņu gatve 5
Working time
Open to the public at any time 24/7.
Getting there
On foot or by private transport, or public transport running on the routes Rīga-Engure-Kolka, Rīga-Engure-Talsi.