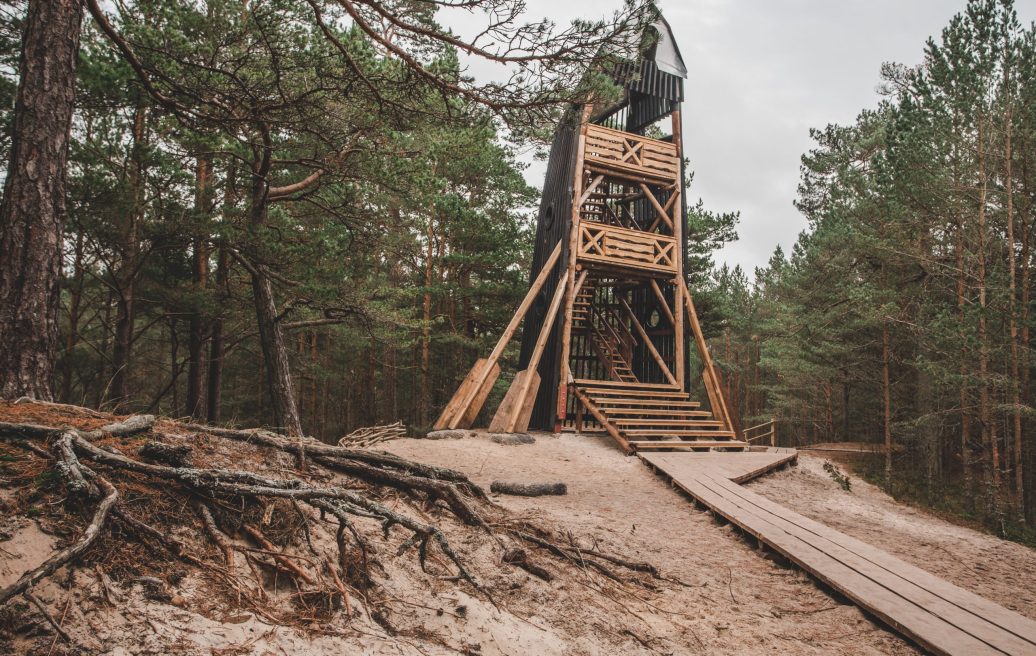 Description
Some places are naturally grounding, making you look up to the sky. Bernāti Nature Park is one of them: a place to find yourself and feel one with the universe. The natural and man-made world fuse seamlessly in the Park's trails, connecting you to the natural cyclical flow of this life. The coastal dune woodlands are distinct for their high relief and constitute one of the greatest values of the South Kurzeme and the Nīca region. Bernāti Nature Park has 7 thematic educational walking trails where visitors can both get their heart rates up and discover Latvian mythology and legends related to the Nīca region. The Park's sculptures and environmental objects made of wood, metal and stone were created by sculptors Ģirts Burvis and Gaits Burvis. A total of 151 objects (sculptures, gazebos, observation towers, landscape frames, etc.) are to be found along the trails.
These objects reveal ancestral heritage, Latvian signs, and stories about South Kurzeme and Nīca. Each trail is devoted to a Latvian mythological deity: Saule, Laima, Dievs, Pērkons, Jumis, Māra, and Mēness. Each trail begins and ends with its symbol and gate.
Read more
Close
Improvements made within the project
In total, 151 objects (entrance gates, information and thematic educational stands, sculptures, swings, gazebos, an observation tower, landscape frames, markings, footbridges, benches, and waste bins) have been placed along the trails. The anthropogenic load on dunes was reduced, redirecting it towards nature trails.
Investments – EUR 264,744.57
Of which:
ERDF funding – EUR 200,000
state budget grant – EUR 8,823.53
municipal funding – EUR 55,921.04
The project was implemented by Nīca Municipality Council.
Address
Bernāti Nature Park, Bernāti, Nīca rural territory, South Kurzeme Municipality.
Getting there
Access by private transport or on foot, as well as by public transport on the routes Liepāja-Nīca-Liepāja and Liepāja-Otaņķi-Nīca, stop Bernāti.
Good to know
Maps of the trails are available electronically by scanning the QR code at the trail entrance with your smart device.
Contacts
Nīca Tourism Information Centre
+371 29458532; +371 63489501